I used to be a software developer in the past. Sometimes, even today, doing mostly cloud security, I need to dig deeper into the code. Most of the time I use Google and it brings me great results. Today, I officially announce the availability of a new service – a custom search engine for developers.
The idea for this project was born many years ago, and finally, I managed to find the time to do research and bring you the best result.
As you know Google indexes the whole Internet, but as a developer, I am more interested in results from sites like GitHub and Stackoverflow. This project exactly does that, with a special addition. You can filter results by programming language. For example by C++ or Javascript / Typescript or Python.
Finally, having added a new design, I consider this project to be production-ready for use and I started to use it myself.
The website name is CodeSeek.COM .
I created a custom GitHub repository to host the index of sites I use for this project: https://github.com/stremovsky/codeseek
You are welcome to submit your developer resource at codeseek support page.
Happy coding.
About the author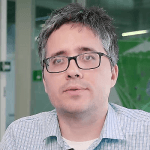 For the past 15 years I've been leading the evolution of startups and enterprises to achieve the highest level of security and compliance. Throughout my career I've been a Cyber Security expert and advanced solutions architect with many years of hands on experience both on offensive and defensive side. Knowledgeable at the highest level in application development, networking, data and databases, web applications, large scale Software as a Service solutions, cloud security and blockchain technologies.

I've been working with CISO's of international enterprises, helping them set Information Security strategy, and overseeing the implementation of these recommendations. As part of these projects, I've been assisting companies to achieve compliance in GDPR, PCI, HIPAA and SOX.

Among my credits, I was a founder of a database security company GreenSQL/Hexatier which was acquired by Huawei and I've co-founded Kesem.io, Secure multi-signature Crypto wallet.

Specialties: Software and cloud architecture, Compliance (GDPR, HIPAA, PCI, SOX), blockchain technologies, software development, secure architectures, project management and low level research.